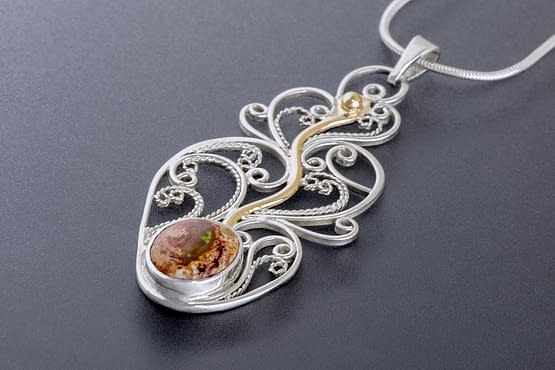 Fireplant Pendant with Opal
¥31,320
This wonderful pendant blends two ideas from antiquity—the fire of life and the seed of life.
From the fire opal "seed" grows a shining gold plant whose silver fronds extend outward like flame. Delicate in its execution, yet powerful in its imagery, this remarkable pendant commands attention to a far greater degree than its size would suggest. For after all, even the grandest of things must start small. From the tiniest seed grows the largest tree. From spark, fire. From idea, innovation.
Just like the lovely lady destined to wear it, this precious piece is one of a kind.
Ships with an 18" sterling silver snake chain.
Materials: Sterling Silver, Argentium Silver, 14k Yellow Gold, Opal
Size: Approximately 2 in from top of bale to bottom of pendant, and 0.9 in at widest

Out of stock